GoFibre celebrates its broadband network reaching 50,000 premises with launch of new £50,000 community fund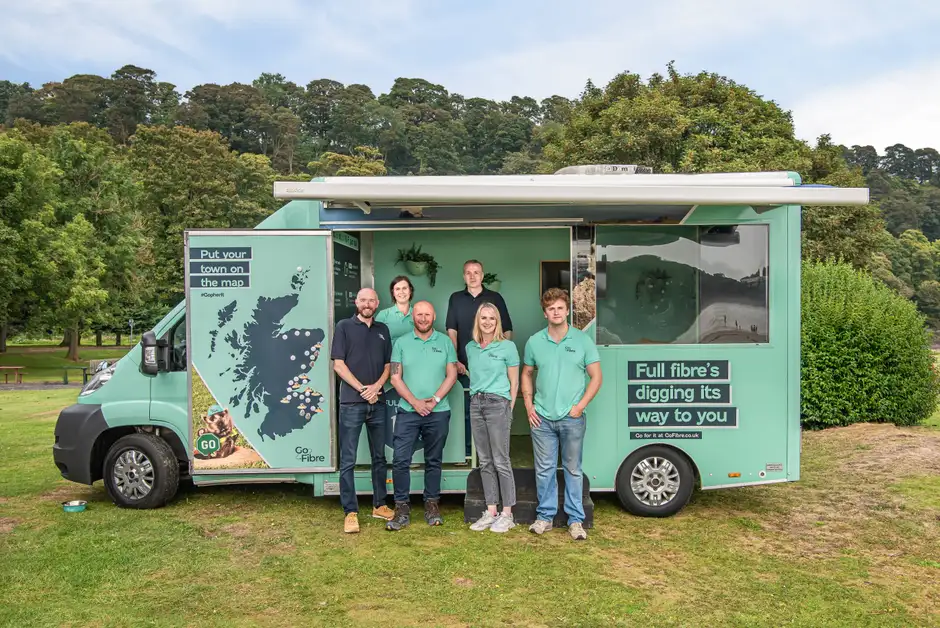 Independent Scottish broadband provider, GoFibre has launched a new £50,000 fund to support charitable and community projects across three of its build regions in Scotland.
Unveiled in celebration of GoFibre's full fibre broadband network now being accessible to 50,000 premises across Scotland's towns and villages, the GoFurther Fund was officially launched today, 28 July, at the Border Union Show in Kelso.
As part of its ongoing commitment to tackle the digital divide across Scotland, the Fund will allow GoFibre to support vital projects and groups in their efforts to transform local lives in East Lothian, Fife, and the Scottish Borders, areas where GoFibre continues to build its network.
With up to £3,000 available for each recipient, the Fund will provide grants to those who meet the relevant criteria, including supporting the creation of work experience opportunities, developing skills and the local economy, promoting good health and wellbeing or actively tackling climate change and contributing to net zero targets in their local areas.
Sam Calvert, Chief Revenue Officer at GoFibre, said: "As we continue to connect homes and businesses to our full fibre broadband network, it's important for us to make meaningful connections with projects and organisations who work hard to transform local lives.
"We've spent the last year getting to know communities in East Lothian, Fife, and the Scottish Borders, and after seeing how many passionate local organisations are in need of additional support, we are keen to do our bit and provide these communities with funding to help them thrive.
"We're incredibly proud to be launching the GoFurther Fund and look forward to seeing how it will make a difference to grassroots communities."
Innovation Minister Richard Lochhead said of the milestone: "I welcome the extension of the full fibre broadband network to 50,000 homes and businesses across the country by a signatory to Scotland's Full Fibre Charter.
"GoFibre is bringing high-quality digital connectivity to premises in rural communities; enabling people to work or study from home when they need to and stay connected to friends and family."
In July, GoFibre has given 50,000 premises across Scotland and the North of England access to its transformative full fibre broadband, and once the next phase of expansion is complete in early 2024, GoFibre's network will reach almost 120,000 premises.
Once connected to full fibre, residents and businesses have access to up to 10Gbps speeds, which significantly enhances their ability to work effectively from home, improves business productivity, and ensures households can use as many gadgets as they want to their hearts' content.
The GoFurther Fund is now receiving applications and organisations will have until 22 September to submit them. More information on the funding criteria and how to apply is available at gofibre.co.uk/gofurtherfund