GoFibre begins construction of full fibre network across rural North Northumberland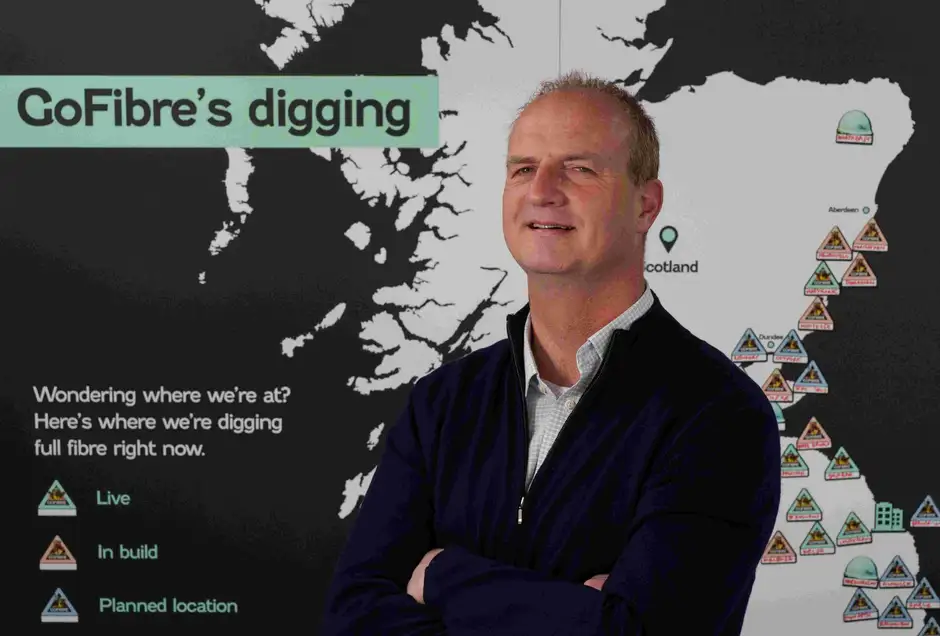 Construction of a new full fibre broadband network is now underway in rural North Northumberland to connect more than 3,750 hard-to-reach homes and businesses as part of the UK government's Project Gigabit scheme.
Borderlink, trading as GoFibre, was awarded the £7.3 million contract last Autumn and has spent the last six months planning and surveying for the build alongside the Department for Science, Innovation and Technology (DSIT) and Northumberland County Council.
Construction will take place until 2025 with homes and businesses across Berwick-upon-Tweed, Seahouses, Wooler, Belford and neighbouring communities able to access gigabit-capable broadband from as early as autumn 2023.
Lightning-fast and fit for the future, gigabit-capable networks allow communities to upload and download data with none of the disruptions associated with ageing copper networks. More than 74 per cent of the UK can access gigabit connections – such as full fibre – but these are most common in urban areas which is why the government is investing £5 billion to connect hard-to-reach places that might otherwise miss out.
The implementation of GoFibre's network in rural Northumberland will help to tackle the digital divide across northern England, providing world-class digital connectivity. With the new network in place, local residents will have access to up to 10Gbps speeds which will significantly enhance their ability to work from home efficiently, utilise multiple devices without lag, and quickly download entire box sets and large files in mere seconds.
Neil Conaghan, Chief Executive Officer at GoFibre, said: "We have been busy engaging with rural-based residents and businesses across the north of England and the demand for full fibre connectivity couldn't be higher. In some of these areas a working Smart TV is out of the question, which so many of us take for granted, because the digital speeds and reliability aren't there.
"These communities are at real risk of being left behind and so we are thrilled to be addressing the rural digital divide head-on with our North Northumberland build officially underway. By way of our partnership with the UK government and Northumberland County Council, we are implementing a future-proof network which will equip these locations with the tools required to drive innovation and success.
"We are grateful for residents' patience and understanding during the construction phase and we look forward to them experiencing the great benefits of full fibre connectivity later this year."
Minister for Data and Digital Infrastructure, Sir John Whittingdale, said: "The government's flagship £5 billion Project Gigabit scheme is bringing fast, reliable connectivity to every corner of the UK. Whether in towns, cities, or rural communities like North Northumberland, it's vital that everyone has access to a modern digital infrastructure which unlocks opportunity and fuels growth.
"GoFibre's work will do exactly that – boosting connectivity for more than 3,750 hard-to-reach premises in the region with the first connections coming online later this year."
Councillor Richard Wearmouth, Deputy Leader at Northumberland County Council and Cabinet Member for Corporate Services, added: "This is fantastic news for our hard-to-reach areas. We all know the benefits faster and more reliable broadband connection has for our local communities.
"Whether this is helping to expand local businesses in the area or helping people access online services such as prescriptions or banking or simply allowing families to connect with friends and family easier or stream the latest media – there is so much to gain from getting online.
"I would urge anyone with access to this to contact their supplier and see what options are available."
GoFibre is also working with DSIT and Durham County Council in Teesdale, as they continue construction of their first contract award win for Project Gigabit which was awarded last year.
Households and businesses in Northumberland can register their interest in GoFibre's full fibre broadband services by visiting www.gofibre.co.uk/register.
Check your postcode
Are we there yet? Check to see if we're in your area.